May 2022
| Mon | Tue | Wed | Thu | Fri | Sat | Sun |
| --- | --- | --- | --- | --- | --- | --- |
| | | | | | | 1 |
| 2 | 3 | 4 | 5 | 6 | 7 | 8 |
| 9 | 10 | 11 | 12 | 13 | 14 | 15 |
| 16 | 17 | 18 | 19 | 20 | 21 | 22 |
| 23 | 24 | 25 | 26 | 27 | 28 | 29 |
| 30 | 31 | | | | | |
Calendar
Top posting users this week
Who is online?
In total there is
1
user online :: 0 Registered, 0 Hidden and 1 Guest
None
Most users ever online was
32
on Fri May 18, 2018 3:54 pm
Hello everyone, Today we're back for more League of Legends Stories!! Please comment if you like League of Legends Stories so i can make more of League of Legends stories ,I'll be telling you about "Pyke the Bloodharbor ripper" He's the new League of Legends champion that i've been waiting for so long , I just love his story and everything even his animation of walking..... Ok let's get in to the story... Pyke the bloodharbor ripper...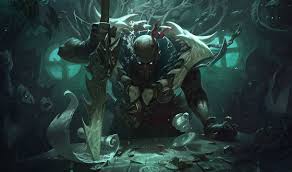 His story began in Blidgewater As a youth , Pyke started out like many in blidgewater on the slaughter docks everyday , monstrous creatures of the deep were hauled in for rendering in the butcheries that lined waterfront He found employment in a district known as Bloodharbor as even the tide itself was not strong enough to wash away the red slick that ran constantly down it's wooden slips. With hard labor and low pay combined. He became hungry for more than a few copper sprats in his pocket , He managed to talk his way onto a ship's crew Few individuals dared to hunt in the traditional Serpent Isles manner, launching themselves at their targets to secure tow-hooks with their bare hands and beginning to butcher the creatures while they yet lived in the sea for the fresh organs harvest. Fearless and highly skilled in this regard Pyke soon cut a name for himself as the best harpooner in Slaughter Docks. Then came the day When they were out hunting Jaull - fish
Creature form the depth with razor-toothed maw within it's maw is a sacs of sapphilite  That if harvested fresh would fetch a big prize Several harpoon lines secured the beast Pyke leapt into it's mouth without hesitation.It wasn't his first time doing this But what he didn't know...that it would be his last, As he set about his work , The Jaulls began to push against the ship's hull out of panic The inexperienced captain Who were in charge on that day order the crews to cut the line for fear sinking his ship.....That meant Pyke's lifeline as well The last thing he saw before the beat's jaws snapped shut, was the look of horror on his crewmates's faces as they watched him being swallowed alive. But this wasn't the end for Pyke..... In the deepest ocean,crushed by the titanic pressure He opened his eyes once more He was surrounded by beautiful blue lights everywhere Then the echoes of something mysterious filled his brain, He felt the ancient power it crushed his mind , Showed him the faces of his betrayers. "ALL OF THEM" A new hunger overtook Pyke,one for vengeance and retribution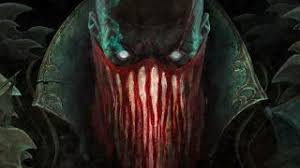 Not long after The killing began....from day to month from month to year..... Captains from many ships were slaughtered in the shadow of the night , By just hearing the question.... "You a captain?" would drive any captain mad with fear.....Soon it weren't just the captain but everyone involved with his business got cut down one by one.... Now they call him with a new name "The Bloodharbor ripper" and then they pray that they aren't on his list..... but wait "You look similar to the betrayers.... You a captain?" THE END........

Krittapas Suradinkura




Posts

: 20


Points

: 28


Reputation

: 0


Join date

: 2018-05-17



Pyke is kind of pirate-like creature like from The Caribbean's. Is it your favorite character now? I'm so much into this style but I prefer Diana as now they released her as dark waters. Awesome.

What do you think about Riot making such character? It looks really OP and incomparable with other characters, if you know what I mean.

Good job.

Points granted for diary :10/10
Actually Pyke is my new main and i really like his story and his skills

Krittapas Suradinkura




Posts

: 20


Points

: 28


Reputation

: 0


Join date

: 2018-05-17



Well such a cool diary

Wongwarun Wongkittichawal




Posts

: 21


Points

: 57


Reputation

: 0


Join date

: 2018-05-17


Age

: 17


Location

: Wakanda




Krittapas Suradinkura




Posts

: 20


Points

: 28


Reputation

: 0


Join date

: 2018-05-17



Yeah, it's superb
One of my favorites
---
Permissions in this forum:
You
cannot
reply to topics in this forum